Horizontal machining center
H SERIES
Performance parameter:X-axis travel range:1270mm
Y-axis travel range:1000mm
Z-axis travel range:920mm
Max. cutting speed X/Y/Z:5/5/5m/min
Rapid traverseX/Y/Z:18/18/18m/min
Max. spindle speed:4500rpm

Online consultation
The heavy-cutting high-rigidity rectangular-guide horizontal processing center for H series is a machine tool structure which integrates international advanced design concept and is more suitable for heavy cutting of large parts. It adopts ultra-wide guide structure and is famous for its wide processing range. Product application areas: mechanical processing in the automotive, aerospace, petroleum, electric power, locomotive, plastic machinery, engineering machinery and other industries.
blanc
Large-diameter spindle
Large-diameter spindle
The large-diameter spindle is supported by long-span precision bearings, which can obtain extremely high precision and rigidity. The end face of the spindle adopts a tubeless nozzle design to eliminate the accumulation of chips and facilitate the machining of the workpiece.
Heavy structure
Heavy structure
The main structure of the machine tool is a T-shaped bed, with hanging box layout and the M-shaped ribs are arranged inside the bed, which makes the bed structure heavy. The guide rail adopts a hardened grinding rectangular guide rail support structure, so that the machine tool has better processing rigidity.
High-precision large load bearing worktable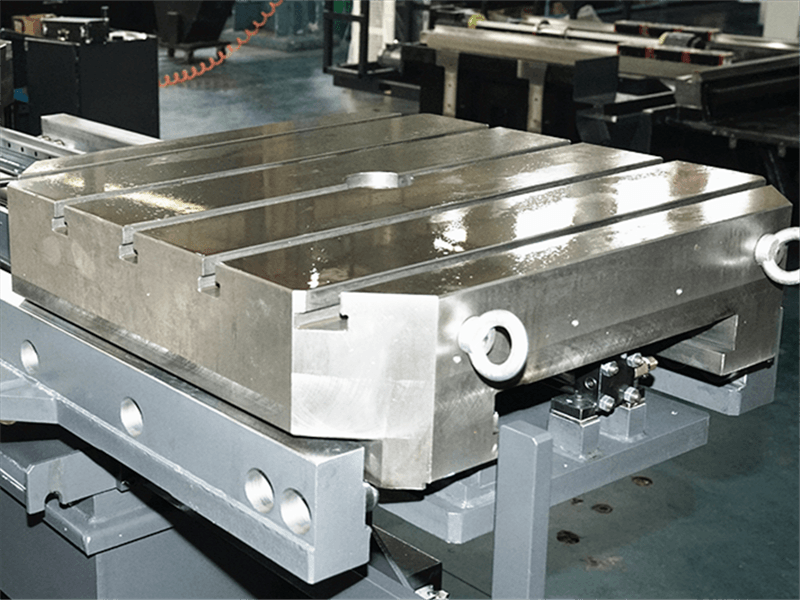 High-precision large load bearing worktable
The NC rotary table adopts a dedicated rotary table bearing with a larger supporting inner diameter to minimize the vibration generated during processing. The worktable clamping adopts a multi-point positioning structure, which effectively reduces the deformation of the worktable while improving the positioning accuracy.
Reliable tool magazine exchange system
Reliable tool magazine exchange system
The tool magazine can provide stable and accurate tool exchange for heavy tools, and the fully enclosed shield at the periphery of the tool magazine allows the operator to safely perform tool exchange and handling.